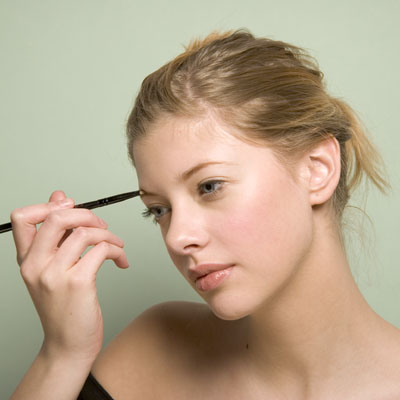 Since Nikah is like religious ritual, i thought i wanna go for natural, no makeup look. I don't want any eye shadow. Except if it's nude. Can I do that? I thought I don't want any make up at all. But I don't have
my sister's
great, flawless complexion. So there will be concealer involves. teehee...
I am no expert, never been to any make up tutorial before unlike
Cik Kay
yang expert... kuikui...Anyway, since I am not proficient in this topic , I thought maybe my
MUA
will know what to do kan? So, I will be leaving it to the professional...
I actually prefer natural look for all reception as well, as a friend of mine said, I hope you won't be looking like someone other than yourself yeah? Point taken dear... :D So... I like this look *Pic Below*
Fyi, I have 5 younger sisters whom which are all prettier than me. HONEST! Or something like this… RED lips… Yummy… macam Courtney Love kan… huhu
Not forgetting... How to make small eyes bigger and brighter taken from
here
The main idea would be to use bright colors around the eyes and never use dark eyeliner on the bottom lid, as this make them look smaller.
Many makeup artists use white or beige eyeliner on the waterline - this is a must-have in your makeup kit if you're blessed with smaller eyes or great to open up the eyes when creating a smokey eye makeup with darker colors!
You can still use eyeliner on the entire top lash line and extend the line slightly at the corners of the eye.
Neutral eye shadows are your best friend; keep it simple, use only two shades at a time with just a hint of black for lining. This way, you'll make them look larger but still accentuate their shape.
Eyelashes are great for opening eyes and make them stand out more.
Curl lashes first, then apply mascara, concentrating in the middle and outer corners using upward strokes.
Also, pay attention to your eyebrows - if you have them thick and close together they will only make your eyes look smaller and closer. Try to tweeze them a little further out than you might normally, about an eye length if you can.